Dispersion affects aim
Last week we dispelled the myth that custom fitting is only for low-handicap golfers – if you didn't give it a read then make sure you do! Regardless of your ability, one of the key focuses during any iron fitting will be your dispersion and here's why it's so important.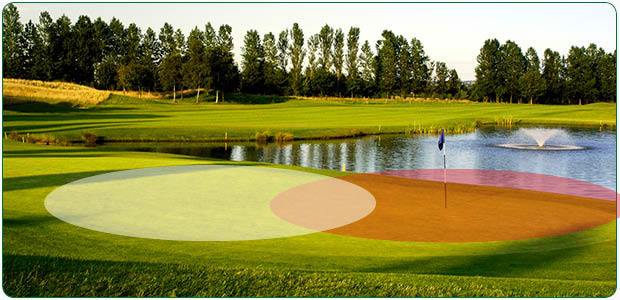 Where do you aim?
As you can see in the image above, a player adopting a more aggressive strategy, highlighted in red, brings the water more into play. We would always recommend in this situation to aim for the middle of the green, as shown in white, to reduce the chance of racking up a big number. This more conservative strategy also gives you a greater margin for error should you mishit your shot.
Learning your dispersion averages and where your common miss is at a custom fitting will only help you in these situations.
One model that will help tackle your bad strikes and tighten up your dispersion is the PING G400. It has powerful springing faces that boost distance, while saved weight from its design allows for more perimeter weighting to help any heel or toe hits fly closer to your target.
Get in touch via the button below to request a fitting.
Back to Articles