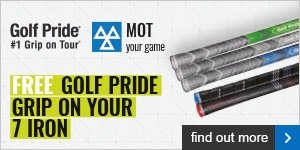 Your only point of contact with the club is via the grip, so it's vitally important that yours aren't neglected.
This is why we're offering to put a new Golf Pride grip on your 7-iron for FREE. It is only through experiencing the benefits that a new grip offers that you'll realise the detrimental effects worn grips will have on your golf. Watch our video here where Foremost TV caught up with David Leadbetter about the importance of re-gripping.

Our recent customer survey highlighted that 71% of you are using grips that are more than 12 months old, when you should be looking to re-grip your clubs every 40 rounds or once a year, whatever comes first.
Now's the perfect time for us to help with this destructive problem, one that's easily fixed in no time at all. Come and see us to collect your FREE Golf Pride grip and we'll re-grip your 7-iron at the same time.
Reserve your FREE Golf Pride grip here.
Terms and conditions
Available from 13th February 2017 until 31st March 2017 or until stockst last.
Professional reserves the right to end the campaign at any time without prior notice.
Free grip will only be put on a 7 iron with no exceptions.
Free grip will be one of the following models MCC Plus 4, CP2 Pro, CP2 Wrap and must be fitted by one of the pro shop team.
One free grip per customer.