Wayne Yellott Golf
Located at both Tinsley Park and Beauchief Golf Clubs we are proud to be helping golfers at two golf clubs improve their game and enjoyment. Read more.......
ProQuip Pro-Flex EVO Ladies Waterproof Jacket

view other products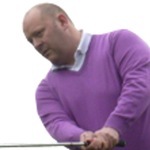 You'll never be caught out with this ProQuip jacket, which is lightweight enough to store in your bag just in case, but durable and waterproof enough to handle the worst of our winter weather.
This Pro-Flex EVO jacket has been designed to be very user-friendly, made from a highly breathable material so you never overheat and with Swing Silent Technology that helps reduce any noise distractions as you swing.
Key features and benefits:

Four-Way stretch material for total freedom of movement
Lightweight and ultra durable Ripstop fabric
Teflon coated for total waterproofing with a three-year guarantee
Highly Breathable fabric so you don't sweat and overheat
Swing Silent Technology limits noise distraction
Full-length waterproof zips for easy access
Feminine cut includes a shaped back hem
Available in three colours and sizes from XS-XXL, you must come and try this on to see which of the sizes is your best match.